I was very lucky to have the opportunity to have a Scuba lesson while on holiday in 2017 in Cyprus in the swimming pool, if I am honest, I was not so keen but my boyfriend loved it and wanted to go and try it in the sea the following day. After much discussion I finally agreed to go and I'm really glad I did. It was a different Instructor and he gave us a better experience than I had in the pool. The thing that first amazed me was being weightless in water, it was a really nice feeling and seeing all the fish and the sea from a different perspective was the highlight of the trip.
Guess what happened next, my boyfriend then talked me into doing the Open Water Course and I was really glad I gave in. It's actually a very rewarding certification and really enjoyed doing the course over the next 3 days. After the course I fell in love with Scuba and when we went back to England I tried a couple of time there but it was not for me. I didn't like how cold the water was and I didn't feel there was enough to see. The following year we went to Greece and we again booked some diving through the hotel, it was great to see new things and it was the first time to see a turtle and it made my heart melt. It also made me realise why I really liked Scuba Diving so I started to do a little more research about it and the best places to go.
In 2019 we booked to go to Hurghada in Egypt, this is where I meet Steve, we met on a Scuba Boat and we dived in a group with him and spent a lot of time talking. Steve was so enthuastic about diving and loved diving with him for a week and he was telling us how he was going to move to Egypt and set up a Diving Centre. We kept in touch and we booked to come out early 2020 to dive with Steve. We had a great 2 weeks and he took us to sites we had never been before and got us to do our PADI Advanced Course. To say I was very nervous about diving deeper was an understatement but Steve really helped calm me down and make me feel at ease. I think many do get a little worried about diving as it's something new but if you find a good Instructor then you will be fine.
My first experience was not great but I'm really glad I tried it again. If I was to recommend the best place to dive it would be Egypt and I would certainly suggest speaking to Steve at Dive UK Hurghada. He has a great set up and really like he only takes small groups and gives his customers 100% attention. Egypt has a really good selection of dive sites and the big bonus is you can get to see dolphins, turtles as well as lots of different fish.
If you are not sure of Scuba Diving, just give it a go. You really won't be disappointed and I would suggest it to anybody and even children.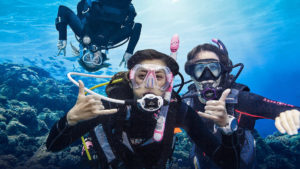 I was very lucky to have the opportunity to have a Scuba lesson while on holiday in 2017 in Cyprus in the swimming pool, if
Read More »
Dive UK Hurghada says: Thanks for writing up your story Sue, we really appreciate it. Many people who have not tried Scuba Diving before are very nervous. What is important is who you chose to take you for the first time. We at Dive UK Hurghada really like to explain every step and go through all the equipment with you to make you both comfortable and ensure you don't have any surprises. Our Discover Scuba Diving Day is all about you and to introduce you to the world of Scuba slowly and to give you a great experience. We take things very slow and explain every step so you know all the steps. We also introduce you to the water gradually so again you feel comfortable at every stage. 
By the end of the day, you will love Scuba for sure and this experience will be something you will remember for the rest of your life. Most people who do the Scuba experience day then continue to do the PADI Open Water Course with us too. Scuba Diving in Hurghada is very addictive and once you start you won't want to stop. And remember 70% of the world is covered by water so there is plenty to explore.