Dive UK Hurghada provide the very best tuition you will find for all the PADI Courses we teach in Hurghada. We are very different from the rest and have a real passion for Diving. We believe in quality and not quantity. We only teach in small groups and usually Courses are conducted on a two student to one instructor basis. We occasionally take groups of 4 if its all one party or family but this is the maximum number, we will teach at one time because we believe we can give the highest standards to this number despite being licenced to conduct in much larger groups.
We take your Training to the next level and believe you should go away being a high level divers and very safe in the water. Our training ethics are unlike no other and that's because we have a passion for diving. Why would you go to somebody else who does not have these ethics? We may be a little more expensive than some but rest assured it's a very small price to pay when you see we have all brand-new equipment and only teach in small groups to a high level.
All student must have their own learning materials and we provide you with a brand-new copy. We do not rush the theory and like to meet you prior to the course to explain everything and provide you with the learning materials so you can start reading at your leisure. Its very important to us you absorb the information and retain it for your safety and understanding of each PADI Course.
You can expect your course to be done at a steady pace and without stress. Again, this is why we only do small groups so the instructor has time to spend with each student. We are very relaxed and provide and stress-free environment for you to learn in. We also make the learning fun and while all the training is important and we remain professional at all times, fun is a very important part of Scuba Diving and you can certainly expect that with any of the PADI Courses we teach.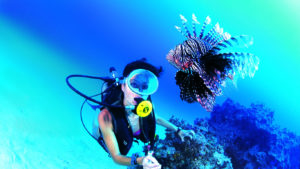 You will not find a better Daily Diving trip in Hurghada, Dive UK Hurghada go all out to make your trip just the way you
Read More »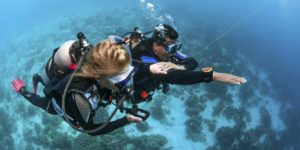 Dive UK Hurghada are only a little more expensive in certain Circumstances. For example, if one person does any of the PADI Courses we offer
Read More »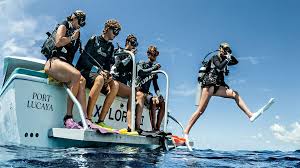 Dive UK Hurghada provide a high level of service and we feel we can only do that with small groups without subcontracting out our customers
Read More »
Our equipment is both new and looked after to the highest of standards, we will ensure your equipment is fitted correctly and we have a big stock of all the different sizes for your comfort and safety. Our regulators are sterilised before each use so you know they are safe to use and without worry of germs. We look after our rental equipment like its our own so you know its safe and won't have worry.
You will also be picked up by your instructor from your hotel. We will always be on time and take you directly to the boat or shore depending on the Course you are doing. All your equipment will be ready for you and your training will start. Our instructors will only be teaching you and will be totally focussed on you. They will not have other things to do nor will they have other people doing other courses or Diving. We don't over load our instructors and they are there totally dedicated to your learning. 
We don't carry out any of our adult courses in the swimming pool. We believe in teaching you in a environment that is both real and more beneficial to you. All training is either carried out in Open Water or from shore in a small shallow cove which is ideal for the first day of the PADI Open Water Course or the first day of the PADI Rescue Course. We also teach the PADI Wreck Speciality from shore because there is an ideal wreck 100m away and easily accessible to do the required skills for the course and its at 18m so more ideal than doing such at a wreck of 30m.
Once you come into contact with us you will see why we are very different from the rest. We want to teach you and you will not regret choosing Dive UK Hurghada to do your next PADI Course in Hurghada. Get in contact today for free advise and very straight answers.