We operate the trips to Luxor ourselves and don't use a 3rd party, for persons up to 3 we take in the car and 4 or more persons we use a minibus. Your personal trip to Luxor is all about you and we want you to be comfortable. We will arrange with you prior to the trip exactly how you want your trip to be, we will discuss the options of which temples you visit and the options for departures times along with what you would like for lunch.
Its really important to Dive UK Hurghada that you have your Luxor Trip your way. This is your excursion and you have it exactly how you want it. You won't be taken anywhere for any hard sells and you will be taken directly to the entrance of the temple you chose. Your safety is number one for us so we will drive you to the temple, buy your tickets for you and take you to the entrance. We do not come into the temples with you and allow you to explore at your own pace. Should you wish for us to come with you there is a small extra charge.
We can also negotiate a local guide for you when we arrive at the Temple if you wish but you are more welcome to roam the Temples at your own pace (We will be waiting for you whenever you finish and there is ZERO rush).
We will also help you negotiate the correct price should you wish to buy any gifts. It's very important to us that our guests do not get charged above the normal price.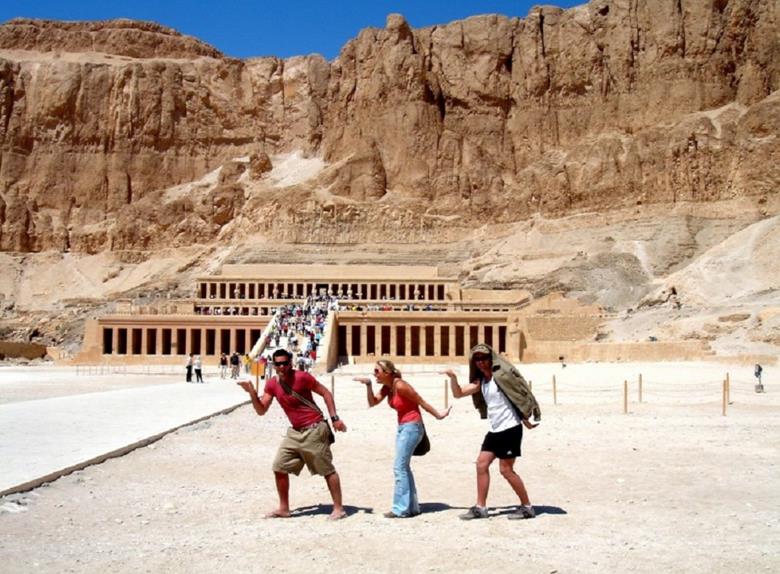 Most of our Customer chose to go to the Karnak Temple, Hatshepsut Temple and the Valley of Kings. These are the 3 main temples and are the nicest and most beautiful ones. If you want to go to different ones, you just tell us and we will take you. We have been to most so can also advise you on what you will see. Our trips are based on you going to 3 temples. If you want to add a 4th you will then be restricted to time in each because of the opening times and closing times, we can again advise you on this. Remember your Luxor trip is done how you want it and if you want to add the 4th temple or change something that is no problem but you may incur an extra cost.
We usually leave Hurghada at around 5am and get back to Hurghada approximately 6pm by visiting 3 temples. Again, you have a choice to do what you wish. We usually make the first Stop at the Karnak Temple, this is one of the largest sites in Luxor and you will see many decayed Temples, Chapels, Pylons and other buildings.
The second stop is Hatshepsut which is a huge Temple built in the front of the mountain, Hatshepsut is considered a Masterpiece of ancient Architecture. A really beautiful place and a must visit. Our third stop is the Valley of the Kings, here you will be able to enter some of the chambers and you will be amazed by the colourful painting on the walls and ceilings as you enter the tombs. The Valley is known to contain 63 tombs but as I'm sure you are aware discoveries are being made all the time. This is a must see.
Many of our Customers add our Luxor Trips and Cairo trips to their Diving holiday packages, should you book your diving holiday and package together all your trips, we offer good discounts.
Many add a trip to Marsa Alam and the Salem Express trip along with a Cairo Trip. What's important to us is that you have the best holiday ever and go home with a smile. If you want to discuss your options, please don't hesitate to get in contact with us.