We will personally take you on your trip to Cairo and we don't use any third party. Trips of up to 3 people will be done in the comfort of our car and 4 or more persons will be done by minibus. The Cairo Trips usually have a stop off at the Museum and then on to the Great Giza Pyramid Complex for you to spend time at one of the 7 wonders of the world. You really won't believe your eyes when you arrive at the Pyramids, I am still amazed every time I visit. We are here to make your day special and should you want to do something different we are more than happy to make it happen for you if possible.
The trip to Cairo is a long day and we usually start off at approximately 4am and arrive back to Hurghada at 22:00.
We provide you with Breakfast, Lunch and drinks included in the price and we also know places to go for dinner should you want. The trip includes your entrance ticket to both the Museum and the Pyramid Complex, you then also have the choice to pay to actually go inside the great Giza Pyramid and take a Camel or Horse ride.
We will negotiate the correct price for you for each.  We will not go into the Museum with you and if you wish to have a guide, we can arrange this at an extra cost. We can also provide you with a guide at the Pyramids but we will go into the Pyramid Complex with you.
We go into the Pyramid Complex with you to ensure you remain safe and to ensure you pay the correct prices for things and make sure you have an enjoyable time.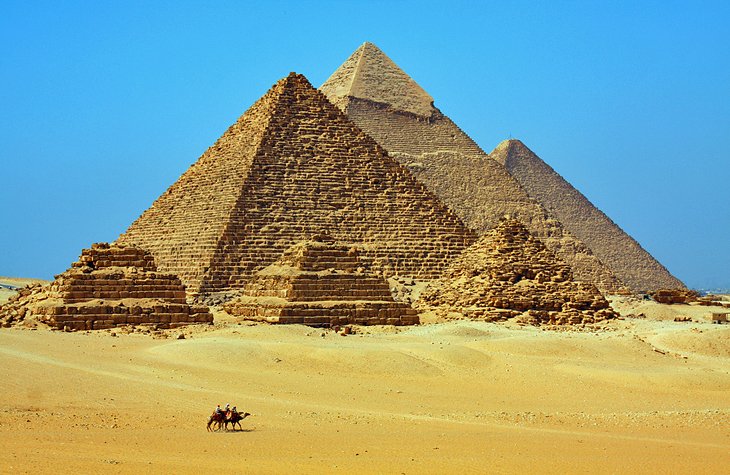 At the Pyramid complex your will see the Great Giza Pyramid, the Pyramid of Khafre and the Pyramid of Menkaure, these are the 3 largest Pyramids but you will also see 3 smaller ones belonging to relatives of the above. You will also get to see the Great Sphinx of Giza. All were built between 2600 and 2500BC, the site also includes several other chambers and the cemetery of the village workers. When you see the complex, you will understand why it is known as a wonder of the world. Your eyes will not believe what they are seeing and it really is the must-see trip!
The Great Giza Pyramid complex is huge, you will have plenty of opportunity to walk around and get up close with the Pyramids, there will be plenty of photo opportunities and this is one of the reasons we come in with you. We are more than happy to help with photos and ensure you have a great time. We will also take you to the view point in the complex for some more photos and a camel ride if you wish. This really is an opportunity of a lifetime and we really recommend this trip to all. It's a long day but very worth it.
Please remember this is your trip so you will not be hurried along and you can take as much or as little time as you wish. You do not have the time constraints other operators give you and you will not have my pushing you to move on.
We want you to soak up the atmosphere and enjoy your time at this amazing place. Many of our customer do Luxor the day after they land and then a Cairo Trip on their last day because they cannot dive before flying.
Many of our customers book the Cairo and Luxor trips as part of their Diving holiday package. Should you add our Salem Express Trip and the Marsa Alam trip you will receive full discount off all 4 tours.