The PADI Open Water Course is the start of your journey into Scuba Diving and is made up of 3 parts.
The first part is watching a video which will teach you the basic principles of Scuba Diving in Hurghada and the different areas you need to know to keep yourself safe and have fun. The second part is reading the PADI manual which reinforces what you have learnt from the video and goes into more details about your upcoming in water activities.
Now for the exciting part, the practical, the PADI Open Water Course is made up two parts, Confined Water and Open Water activities.
In the confined water, you will be shown the skills by the PADI Instructor and then you will perform them. You will also learn about the equipment and be proficient in setting it up and doing all of the safety checks required to be safe under water. You have nothing to worry about as the English PADI IDC Staff Instructor will explain everything in detail and then show you as many times as you need. Once you have mastered the skills you will then be taken to the Open Water where you will do some of the skills again and some new ones. You will then also get to experience Scuba Diving in Hurghada for real and explore the dive sites and put all you have learned into practice.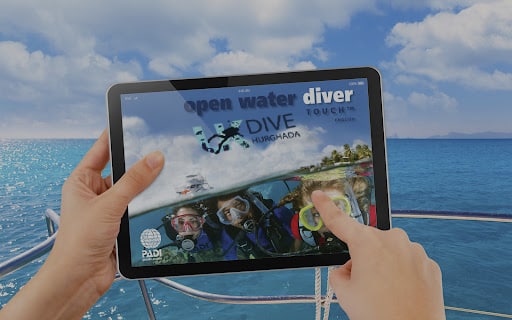 Once you have passed the PADI Open Water Course you will then be certified to Scuba Dive up to 18 metres anywhere in the world. The English IDC Staff Instructor will be with you every step of the way and will be on hand to answer any questions you have. We always suggest to our new students that you do 2-3 more diving days after you have finished your course to put into practice what you have learnt and to help you remember everything.
We at Dive UK Hurghada don't just teach you and leave you there, we are always on hand to advise you and provide further training if needs be, we will also recommend further PADI courses to help you in your journey and would certainly recommend you doing your PADI Advanced Course soon after to gain further knowledge and better your skills.
Why should you do the PADI Open Water Course in Hurghada with Dive UK?
The fun part is you will experience a world seen by few, the planet is made up of over 70% of water so your opportunities are endless and once you start scuba you will become addicted.
Because of the vast marine life you will see and the beautiful corals your eyes will be amazed and you will not want to stop. Doing your PADI Open Water Course in Hurghada will give you a good chance to see Dolphins in the wild and other large species including Eagle Rays and Whale Sharks which are so soft and gentle.